Approach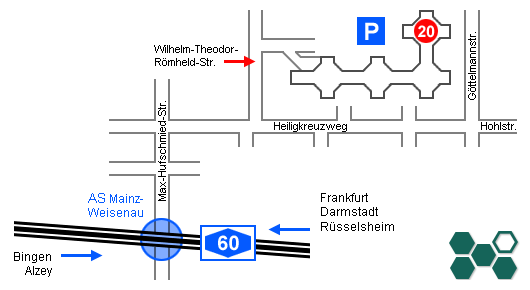 Leave the BAB 60 at the Mainz-Weisenau exit and at the end of the exit, coming from Frankfurt, Darmstadt, Rüsselsheim turn right, coming from Bingen, Alzey, turn left into the Max-Hufschmidt-Strasse.
At the second traffic light turn right into Heiligkreuzweg and after about 200 meters turn left at a traffic light into Wilhelm-Theodor-Römheld-Strasse.
The office is located at number 20 of the building complex Bürozentrum Mainz.
For your car are available in front of the building free visitor parking lots in sufficient numbers.
The entrance to the parking area is through the daytime closed barrier, which is opened for you after pressing the bell located at the barrier.
Surroundings Map